Notice
"Fire at Kings Heath venue where The Beatles once played"
Sad news today as people in King's Heath awoke to the blaze that consumed the former Ritz Ballroom (now a Cash Converters store) where The Beatles played (see our article here). Fire crews, along with other emergency services, were in attendance leading to local road closures and transport mayhem around one of Birmingham's busiest hubs. The Birmingham Mail today published a version of events that reads:
"One of the main commuting routes into the city is currently closed while up to 40 firefighters tackle a "suspicious" blaze at a building that once played host to The Beatles. Police have closed Kings Heath High Street in both directions from York Road and Silver Street after fire broke out at the Cash Converters store, formely The Ritz venue. Commuters are being warned to avoid the area and traffic is being diverted down Institute Road. Officers say Kings Heath High Street is to remain closed for the rest of today. There are no reports of injuries. Police have said that the cordon will stay in place during the morning rush hour and the cause of the fire is being investigated. A police spokesman said: "Officers are treating the blaze at Cash Converters on York Road as suspicious. Emergency services were called when the fire started just after 5am today (27 March)."
For more on this story, please read the full Birmingham Mail article here.
Meanwhile West Midlands Fire Service issued a statement on their website which reads: "At 5.02am today (Wednesday 27 March) we received a 999 call reporting smoke coming from the Cash Converters premises in York Road, Kings Heath, Birmingham. When they arrived, crews found a se
vere fire in the two-storey building and our resources were quickly scaled up to eight fire engines and around 40 firefighters, plus a hydraulic platform."
They also released an image of the collapsed building (right - © West Midlands Fire Service) showing the devastation caused by the fire as it progressed through the building.
For more, please visit the West Midlands Fire Service website here. More images can be found here along with the image below - © West Midlands Fire Service.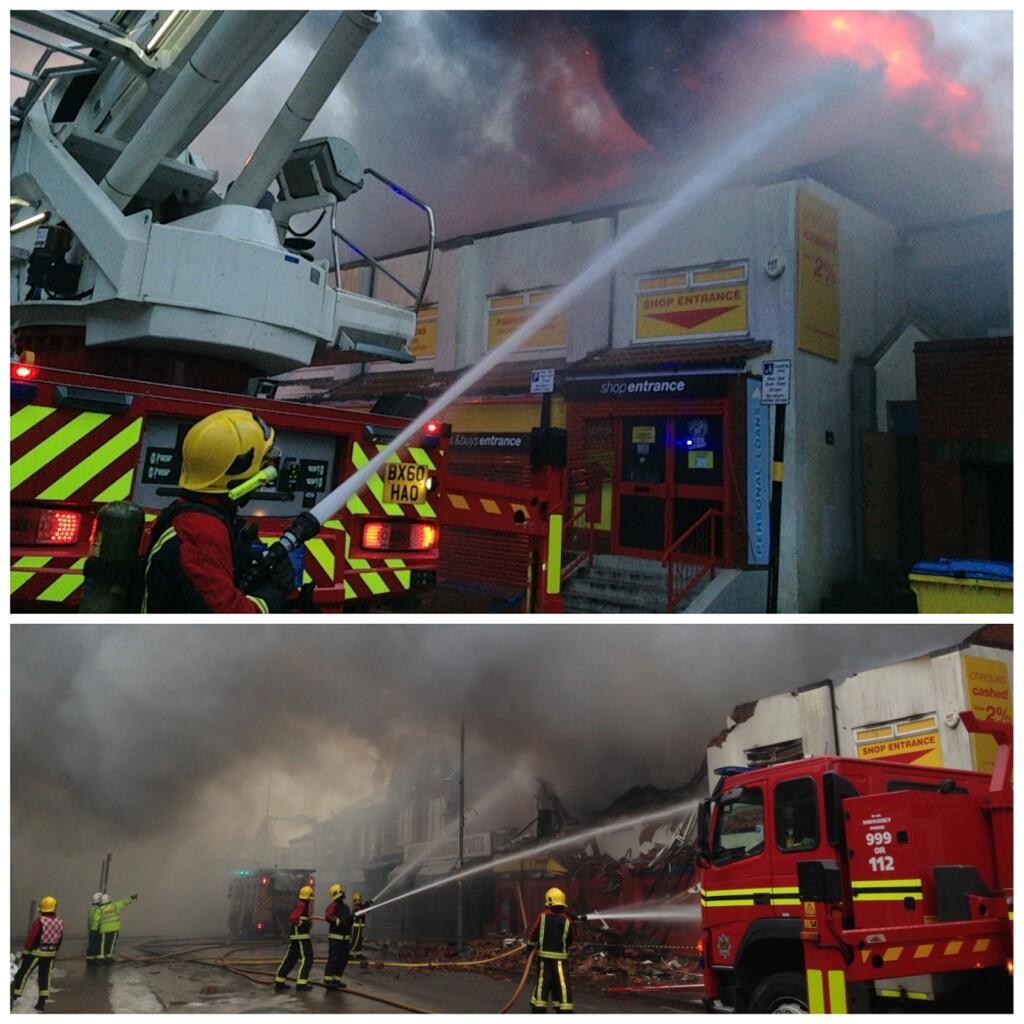 Here's a comment from "Hoakser" on Twitter:
Rock Legend Trevor Burton to be next star on Walk of Fame
Rock legend Trevor Burton who has lived in King's Heath for over 20 years is to be celebrated with a star on the Walk of Fame on Monday 3rd June 2013. The award was announced when Adrian Goldberg interviewed Trevor on his programme on BBCWM95.6 on Thursday 21st March.
Trevor was a founder member of The Move alongside Roy Wood, Bev Bevan, Carl Wayne and Chris Kefford.
They were formed after a young David Bowie suggested to Trevor that he gather together all the best musicians in Birmingham into a supergroup and come down to London to play.
The Move went on to score nine Top 20 hits in the 1960's including "Flowers in the Rain" which was the first ever single played on Radio One on 30 September 1967. The song, which reached No.2 in the charts, generated controversy after the band were sued by Harold Wilson - the Prime Minister - for libel. Their manager, Tony Secunda, had produced a postcard to promote the single that portrayed Wilson in bed with his secretary Marcia Williams with whom he was rumoured to be having an affair. The group lost the court case and all royalties from the record had to be donated to a charity of Wilson's choice.
After firing Tony Secunda as manager, The Move went onto have further hits including "Fire Brigade" and "Blackberry Way".
When Trevor left in 1969 he went on to play with many of this country's iconic rock musicians and bands including Jimi Hendrix, Robert Plant and Steve Gibbons.
His induction will come shortly after he finishes starring in a sell-out tour of leading Midlands venues compered by Jasper Carrott. Both The Move featuring Trevor Burton and Bev Bevan and The Trevor Burton Band will play a special concert at the Hare & Hounds in King's Heath on the evening of Monday 3rd June as part of his induction into the Walk of Fame.
Ticket prices have been kept deliberately low so that as many fans as possible can attend this intimate and historic gig.
Tickets are priced at only £7 and are available from the Hare & Hounds pub directly here
Trevor Burton said, "To have been chosen to be given a star on the King's Heath Walk of Fame is fantastic and I would like to thank all those involved for making it happen. It's over 40 years from when I first played at the Ritz Ballroom in King's Heath with The Move and I remember it as being one of the top gigs on the Birmingham circuit. It's great that it's being remembered as it will bring back a lot of memories for people who rocked there back in the sixties".
Bev Bevan, drummer with The Move and ELO said, " Trevor is a fantastic blues guitar player. He left The Move to persue his love of blues music and went on to play with Jimi Hendrix and many other great musicians. His star is a great reward for all his amazing guitar playing".
Bob Prew and Ken Whittaker who created the Walk of Fame said, "We are delighted to be able to honour Trevor on the Walk of Fame. He formed the first major group to come out of Birmingham in the 1960's and has now lived in King's Heath for over 20 years. He is still a really influential figure on the rock and blues scene inspiring a whole new generation with his guitar playing".
Toyah's Star gets laid in King's Heath's York Road
Toyah's star has now been laid in King's Heath's York Road.
The marble star, which is set in the frontage of Maurice Robinson's Sports Shop, is the first of many that will make up King's Heath's very own Walk of Fame.
Bob Prew and Ken Whittaker who came up with the idea of the Walk of Fame said, "This is the start of a major new attraction for King's Heath. Toyah's star has taken longer to manufacture than we had originally hoped but future stars should now take a lot less time to appear. We hope that there will eventually be at least 20 stars stretching down York Road and encouraging more visitors to King's Heath".
The next star to be inducted on to the Walk of Fame will be announced on the Adrian Goldberg show on BBCWM95.6 on Thursday 21st. March (Show starts at 9am - schedule here). Adrian will be interviewing the star and asking questions prepared by Clas
s 8XI of Bishop Challoner School as part of BBC School Report. You can follow BBC WM via Twitter at https://twitter.com/bbcwm.
Meanwhile, back in York Road, King's Heath, the picture to the right shows workmen in the proces of laying and setting Toyah's star. Why not take a detour to York Road the next time you visit King's Heath to see how the King's Heath Walk of Fame is developing.
Many thanks to Mark Edgington of Premiere Maintenance Services and Adrian Kettle for laying Toyah's star and to Wendy Bill of Maurice Robertson Sports for allowing us to do so in their shop frontage.
« StartPrev111213141516171819

20

NextEnd »
Page 20 of 22