Notice
"Fire at Kings Heath venue where The Beatles once played"
Sad news today as people in King's Heath awoke to the blaze that consumed the former Ritz Ballroom (now a Cash Converters store) where The Beatles played (see our article here). Fire crews, along with other emergency services, were in attendance leading to local road closures and transport mayhem around one of Birmingham's busiest hubs. The Birmingham Mail today published a version of events that reads:
"One of the main commuting routes into the city is currently closed while up to 40 firefighters tackle a "suspicious" blaze at a building that once played host to The Beatles. Police have closed Kings Heath High Street in both directions from York Road and Silver Street after fire broke out at the Cash Converters store, formely The Ritz venue. Commuters are being warned to avoid the area and traffic is being diverted down Institute Road. Officers say Kings Heath High Street is to remain closed for the rest of today. There are no reports of injuries. Police have said that the cordon will stay in place during the morning rush hour and the cause of the fire is being investigated. A police spokesman said: "Officers are treating the blaze at Cash Converters on York Road as suspicious. Emergency services were called when the fire started just after 5am today (27 March)."
For more on this story, please read the full Birmingham Mail article here.
Meanwhile West Midlands Fire Service issued a statement on their website which reads: "At 5.02am today (Wednesday 27 March) we received a 999 call reporting smoke coming from the Cash Converters premises in York Road, Kings Heath, Birmingham. When they arrived, crews found a se
vere fire in the two-storey building and our resources were quickly scaled up to eight fire engines and around 40 firefighters, plus a hydraulic platform."
They also released an image of the collapsed building (right - © West Midlands Fire Service) showing the devastation caused by the fire as it progressed through the building.
For more, please visit the West Midlands Fire Service website here. More images can be found here along with the image below - © West Midlands Fire Service.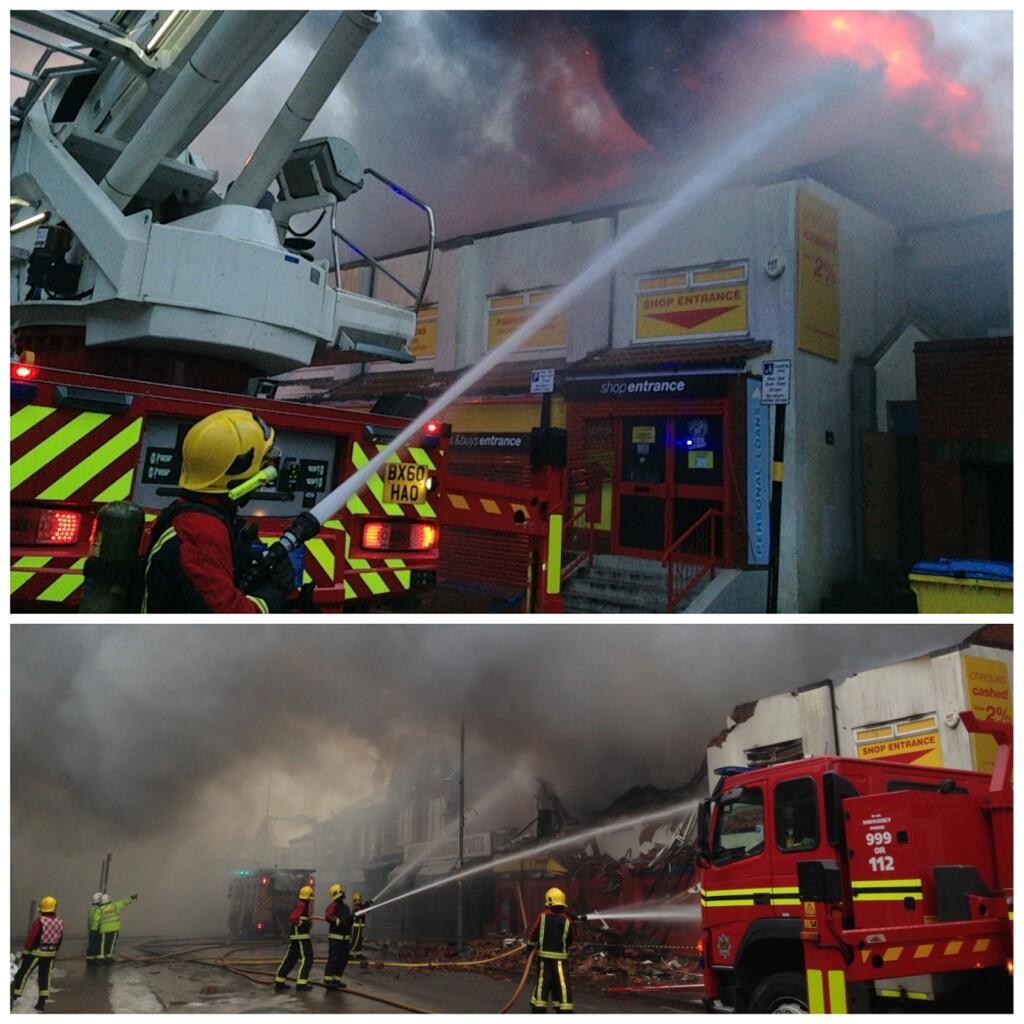 Here's a comment from "Hoakser" on Twitter:
Toyah's Star gets laid in King's Heath's York Road
Toyah's star has now been laid in King's Heath's York Road.
The marble star, which is set in the frontage of Maurice Robinson's Sports Shop, is the first of many that will make up King's Heath's very own Walk of Fame.
Bob Prew and Ken Whittaker who came up with the idea of the Walk of Fame said, "This is the start of a major new attraction for King's Heath. Toyah's star has taken longer to manufacture than we had originally hoped but future stars should now take a lot less time to appear. We hope that there will eventually be at least 20 stars stretching down York Road and encouraging more visitors to King's Heath".
The next star to be inducted on to the Walk of Fame will be announced on the Adrian Goldberg show on BBCWM95.6 on Thursday 21st. March (Show starts at 9am - schedule here). Adrian will be interviewing the star and asking questions prepared by Clas
s 8XI of Bishop Challoner School as part of BBC School Report. You can follow BBC WM via Twitter at https://twitter.com/bbcwm.
Meanwhile, back in York Road, King's Heath, the picture to the right shows workmen in the proces of laying and setting Toyah's star. Why not take a detour to York Road the next time you visit King's Heath to see how the King's Heath Walk of Fame is developing.
Many thanks to Mark Edgington of Premiere Maintenance Services and Adrian Kettle for laying Toyah's star and to Wendy Bill of Maurice Robertson Sports for allowing us to do so in their shop frontage.
Beatlemania returns to King's Heath after 50 years!
Beatlemania returned to King's Heath on 15 February exactly 50 years after the Fab Four played the Ritz Ballroom on York Road. Over 150 fans crammed into Flechers Bar directly opposite the former Ballroom to commemorate the 50th Anniversary of one of the landmark events in King's Heath's amazing musical heritage. Advance tickets had sold out within a fortnight and fans started arriving at the venue over an hour before the scheduled start to snap up the few remaining tickets that went on sale on the door.
Inside a packed Fletchers, Rich McMahon did a terrific job of compering a nostalgic afternoon's entertainment with audience members sharing anecdotes and memories while listening to unique and individual interpretations of some famous and not so famous Beatles songs.
Guest performers included Steve Birkett of Acoustica, Samuel Rogers (see below), Redbird Sky, Rob Peters, Sylvia, Jason Ensa, David Disley-Jones and the Dirty Old Folkers.
Local residents Bob Prew and Ken Whittaker who organised the event to promote the King's Heath Walk of Fame said, "We were surprised and delighted by the demand for tickets. Fans from as far a field as Liverpool, Cheltenham and Lichfield travelled to King's Heath to join in our celebration. We want to say a really big thank you to them and also to all the fine and wonderful musicians who turned up to play. We are already planning a similar event for September 14th to celebrate the 50th Anniversary of the Rolling Stones playing the Ritz Ballroom as well as planning regular monthly music sessions to provide a showcase for the next generation of rock stars"
Click on our "Fame Gallery" link (channels menu left) or click here
Click here for some more great photos on Born Music Online

"Follow King's Heath's lead in celebrating musical heritage" says Mail!
"Let's do more to celebrate our musical heritage" urges an editorial in the Birmingham Mail on Saturday 16 September alongside a full page article on King's Heath's 50th Beatles Anniversary Celebration.
The full editorial reads, "As well as producing plenty of home-grown talent such as The Move, Black Sabbath, Duran Duran and UB40, Birmingham has staged gigs by countless up-and-coming bands from elsewhere.
But none come bigger than the Beatles and how fitting we should remember how a modest venue in King's Heath once hosted the Fab Four.
Let's do more to celebrate our musical heritage".
The editorial could also have added that both Duran Duran and UB40 made some of their earliest recordings at Bob Lamb's Cambridge Road and then Highbury Studio in King's Heath, UB40 played their first ever gig in King's Heath and The Move's Trevor Burton has lived in King's Heath for over 20 years. So King's Heath has played a really pivotal role in the whole city's musical heritage and is now helping to lead the way in promoting that heritage!
Triple Celebration planned for King's Heath Cluedo inventor Anthony Pratt
Read the Birmingham Mail article: "Cluedo founder Anthony Pratt has a pavement plaque dedicated to him in the B14 postcode of King's Heath"
Anthony Pratt, who created the Cluedo boardgame while working in a wartime tank factory in Birmingham, is to be honoured in King's Heath, where he was living at the time. Largely ignored and forgotten when he died aged 90 in 1994 he is to have his life celebrated in three different ways in the Autumn.

Firstly, a pavement plaque commemorating the civil servant is planned for York Road in September as part of the 'King's Heath Walk of Fame'. Secondly, a presitigious Blue Plaque is to be placed on the wall of 9 Stanley Road where he and his wife were living during the second world war when he invented the hugely popular boardgame. And thirdly, author Jonathan Foster's book (featured here) on one of King's Heath's most famous residents will be published entitled: "The Cluedo Story; How Anthony Pratt invented the game of Murder Mystery"
Anthoy Pratt invented the famous boardgame, with the help of wife Elva, during the war years – a time he spent making tank components in a Birmingham factory. Originally titled 'Murder', Pratt had it patented in 1944. Waddingtons bought the overseas rights nine years later, paying Pratt only £5,000.
"Once you start looking," said Ken Whittaker and Bob Prew who came up with the idea of creating King's Heath's very own Walk of Fame, "it is amazing how many famous people have links to King's Heath. We hope to honour at least 20 of them. The project is going from strength to strength and we have more and more names. 1948 Olympic cycling Bronze medalist Tommy Godwin lived and owned a shop here, Frank Skinner and UB40 started their careers here...There is so much more. We can't just let the memories fade away."
Picture of Bob Prew and Ken Whittaker, and article - both courtesy of Mike Lockley at the Birmingham Mail
For more on Anthony Pratt, click here
« StartPrev123456

7

Next

End

»
Page 7 of 7