Notice
Rock 'n' Roll Revival on Sunday 6 October will end Summer Series of Lazy Sunday Afternoon Sessions
"Great Balls of Fire" will be one of the many classic songs sung at a special event to commemorate all the famous rock 'n' roll artists of the 1950's and 60's who played at the former Ritz Ballroom gutted by fire earlier this year.
On Sunday 6 October top local groups including SwiftBeat rock 'n' roll band, The 6-5 Specials, Mr Apollo and World of Fox will perform their favourite rock 'n'roll songs in a 3 hour session starting at 3 p.m. at Fletchers Bar on York Road directly opposite the former ballroom.
Tickets cost just £2.50 in advance from the Kitchen Garden Cafe also on York Road or www.wegottickets.com or £3 on the door.
"Great Balls of Fire" was a number one hit for Jerry Lee Lewis. When he first performed at The Ritz Ballroom his chauffeur had to be shown the way to King's Heath from another Regan owned venue - The Plaza in Handsworth - by a fan travelling on his mate's motor bike.
When Gene Vincent played the Ritz Ballroom on 21 June 1963 he was supported by a band called The Outlaws" featuring Ritchie Blackmore later of Deep Purple and Rainbow fame.
Internationally famous Bill Haley is also known to have played at the Ritz Ballroom as well as up and coming British rock 'n' roll acts including the very young Joe Brown and Cliff Richard!
This event will be the last in the Walk of Fame's very popular summer series of Lazy Sunday Afternoon Sessions that kicked off on 7 July with "All Things Kinky" celebrating the music of The Kinks.
Local residents Bob Prew and Ken Whittaker said "We have been really delighted that so many people have come along to all the sessions to continue to celebrate King's Heath's amazing musical heritage. The name for the sessions was taken from a hit single by The Small Faces who also performed at the Ritz Ballroom. We will be having a short break in November before returning on 1st December with a Best of 2013 show".
Summer of 1960's Music Nostalgia planned despite Ritz Ballroom fire!
Defiant organisers of the Walk of Fame said that the fire that recently destroyed the former Ritz Ballroom will not halt their plans to celebrate King's Heath's amazing musical heritage this summer.
A whole series of events are planned throughout the summer including:-
♦ inducting The Move founder Trevor Burton as the next star on the Walk of Fame on 3rd June at the Hare & Hounds. Trevor will be presented with his star at an Award Ceremony at 4 p.m. that everyone can attend for free. This will then be followed by a concert at 7.30 p.m with the current line-up of The Move featuring Bev Bevan and Trevor Burton and The Trevor Burton Band. The Move regularly played at The Ritz when they first started up and the last few remaining tickets for the gig are now on sale price £7 from www.hareandhoundskingsheath.co.uk
♦ monthly Lazy Sunday Afternoon sessions at Fletchers Bar directly opposite the former Ritz Ballroom themed around artists who played at The Ritz:
June 9 - Rock 'n' Roll Revival commemorating the 50th Anniversary of Gene Vincent playing The Ritz. Jerry lee Lewis and Bill Haley are also known to have performed there.
July 7 - All things Kinky commemorating The Kinks performance at The Ritz
Aug 4 - Girls Afternoon Out commemorating, Dusty Springfield, Sandie Shaw, Helen Shapiro and Cilla Black who all played at the Ritz.
♦ an all day Rolling Stones Fest on Saturday 14 Sept at Fletchers Bar and other venues around King's Heath to commemorate the 50th Anniversary of the Stones gig at the Ritz with films as well as live and recorded music.
The first ever Birmingham Civic Society Music Heritage plate (photo opposite courtesy of Ell R Brown) commemorating the Ritz Ballroom has survived the fire and these summer events are intended to keep the music and memories of the 1960's alive while the future of the building is decided.

Organisers Bob Prew and Ken Whittaker said, "The Ritz Ballroom building may have been destroyed but we are determined that the memories and music will carry on. It is vital that the key role the Ritz played in Birmingham's musical heritage is not forgotten. All the great bands of the 1960's played at The Ritz. These live events will keep the spirit of The Ritz well and truely alive".
Both Toyah Willcox's pavement star and the Birmingham Civic Society Misic Heritage Plate have been removed for safekeeping while the whole building awaits demolition.
For more images by Ell R Brown like the one featured opposite, please visit the Flikr page here
"Fire at Kings Heath venue where The Beatles once played"
Sad news today as people in King's Heath awoke to the blaze that consumed the former Ritz Ballroom (now a Cash Converters store) where The Beatles played (see our article here). Fire crews, along with other emergency services, were in attendance leading to local road closures and transport mayhem around one of Birmingham's busiest hubs. The Birmingham Mail today published a version of events that reads:
"One of the main commuting routes into the city is currently closed while up to 40 firefighters tackle a "suspicious" blaze at a building that once played host to The Beatles. Police have closed Kings Heath High Street in both directions from York Road and Silver Street after fire broke out at the Cash Converters store, formely The Ritz venue. Commuters are being warned to avoid the area and traffic is being diverted down Institute Road. Officers say Kings Heath High Street is to remain closed for the rest of today. There are no reports of injuries. Police have said that the cordon will stay in place during the morning rush hour and the cause of the fire is being investigated. A police spokesman said: "Officers are treating the blaze at Cash Converters on York Road as suspicious. Emergency services were called when the fire started just after 5am today (27 March)."
For more on this story, please read the full Birmingham Mail article here.
Meanwhile West Midlands Fire Service issued a statement on their website which reads: "At 5.02am today (Wednesday 27 March) we received a 999 call reporting smoke coming from the Cash Converters premises in York Road, Kings Heath, Birmingham. When they arrived, crews found a se
vere fire in the two-storey building and our resources were quickly scaled up to eight fire engines and around 40 firefighters, plus a hydraulic platform."
They also released an image of the collapsed building (right - © West Midlands Fire Service) showing the devastation caused by the fire as it progressed through the building.
For more, please visit the West Midlands Fire Service website here. More images can be found here along with the image below - © West Midlands Fire Service.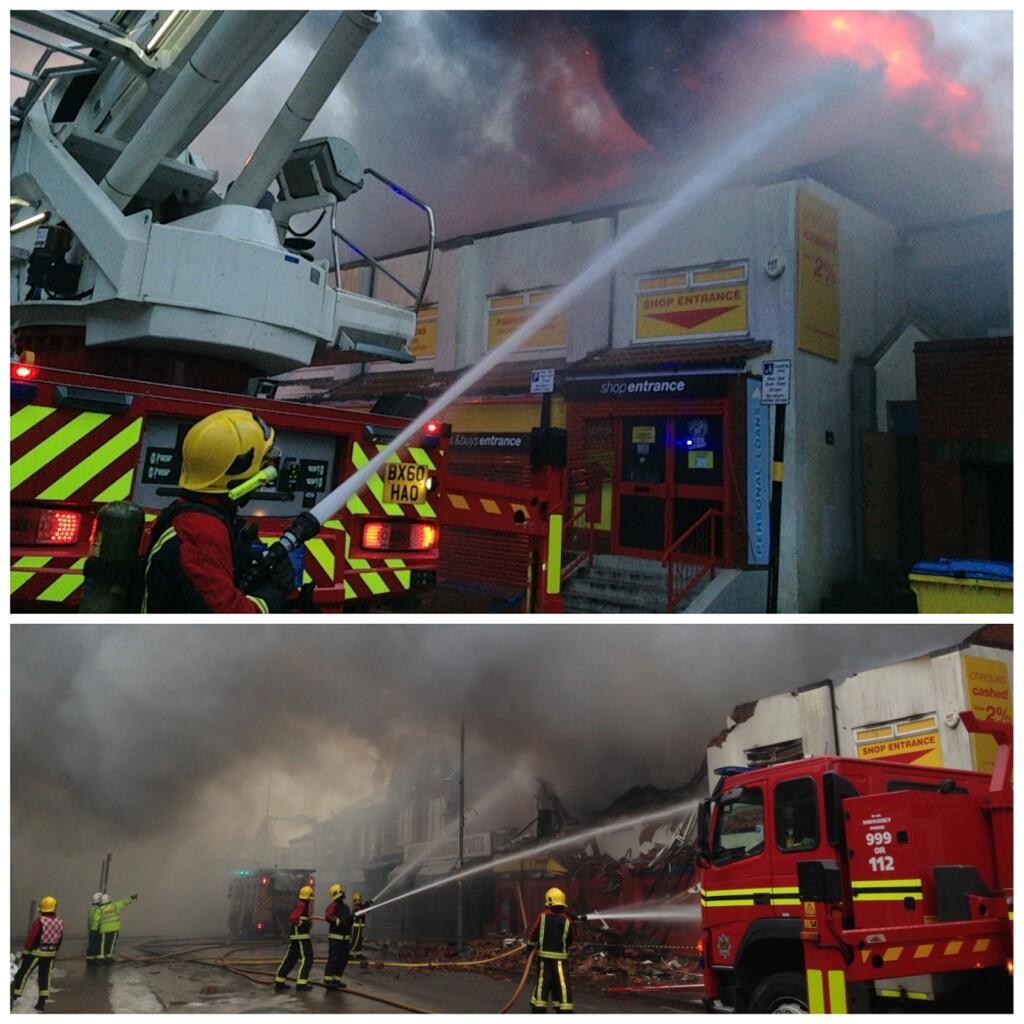 Here's a comment from "Hoakser" on Twitter:
Toyah's Star gets laid in King's Heath's York Road
Toyah's star has now been laid in King's Heath's York Road.
The marble star, which is set in the frontage of Maurice Robinson's Sports Shop, is the first of many that will make up King's Heath's very own Walk of Fame.
Bob Prew and Ken Whittaker who came up with the idea of the Walk of Fame said, "This is the start of a major new attraction for King's Heath. Toyah's star has taken longer to manufacture than we had originally hoped but future stars should now take a lot less time to appear. We hope that there will eventually be at least 20 stars stretching down York Road and encouraging more visitors to King's Heath".
The next star to be inducted on to the Walk of Fame will be announced on the Adrian Goldberg show on BBCWM95.6 on Thursday 21st. March (Show starts at 9am - schedule here). Adrian will be interviewing the star and asking questions prepared by Clas
s 8XI of Bishop Challoner School as part of BBC School Report. You can follow BBC WM via Twitter at https://twitter.com/bbcwm.
Meanwhile, back in York Road, King's Heath, the picture to the right shows workmen in the proces of laying and setting Toyah's star. Why not take a detour to York Road the next time you visit King's Heath to see how the King's Heath Walk of Fame is developing.
Many thanks to Mark Edgington of Premiere Maintenance Services and Adrian Kettle for laying Toyah's star and to Wendy Bill of Maurice Robertson Sports for allowing us to do so in their shop frontage.
Beatlemania returns to King's Heath after 50 years!
Beatlemania returned to King's Heath on 15 February exactly 50 years after the Fab Four played the Ritz Ballroom on York Road. Over 150 fans crammed into Flechers Bar directly opposite the former Ballroom to commemorate the 50th Anniversary of one of the landmark events in King's Heath's amazing musical heritage. Advance tickets had sold out within a fortnight and fans started arriving at the venue over an hour before the scheduled start to snap up the few remaining tickets that went on sale on the door.
Inside a packed Fletchers, Rich McMahon did a terrific job of compering a nostalgic afternoon's entertainment with audience members sharing anecdotes and memories while listening to unique and individual interpretations of some famous and not so famous Beatles songs.
Guest performers included Steve Birkett of Acoustica, Samuel Rogers (see below), Redbird Sky, Rob Peters, Sylvia, Jason Ensa, David Disley-Jones and the Dirty Old Folkers.
Local residents Bob Prew and Ken Whittaker who organised the event to promote the King's Heath Walk of Fame said, "We were surprised and delighted by the demand for tickets. Fans from as far a field as Liverpool, Cheltenham and Lichfield travelled to King's Heath to join in our celebration. We want to say a really big thank you to them and also to all the fine and wonderful musicians who turned up to play. We are already planning a similar event for September 14th to celebrate the 50th Anniversary of the Rolling Stones playing the Ritz Ballroom as well as planning regular monthly music sessions to provide a showcase for the next generation of rock stars"
Click on our "Fame Gallery" link (channels menu left) or click here
Click here for some more great photos on Born Music Online

« StartPrev123456

7

8NextEnd »
Page 7 of 8