Notice
Girls To Be On Top In King's Heath on Sunday 4 August
A citywide search has been launched to find new musical talent to perform at our event to showcase and celebrate the work of the female legends of music.

Sta
rting at 4 p.m. the 3 hour event on Sunday 4 August, at Fletchers in King's Heath, is the latest in our series of sessions to commemorate the heritage of the Ritz Ballroom where many of the 1960's pop legends performed before they were famous.
Dusty Springfield, Sandie Shaw, Helen Shapiro and Cilla Black all appeared at the former Ritz Ballroom in King's Heath at the start of their careers.
Dusty Springfield (below) was an icon of the swinging 60's who had 16 Top 10 singles including "I Only Want To Be With You", "You Don't Have To Say You Love Me" and "Son of A Preacher Man that was to be hit for a second time after featuring in the cult film "Pulp Fiction". Her soul album "Dusty in Memphis" has frequently been voted one of the greatest albums of all time. She sadly died in 1999 but her musical legacy continues to live on.
Sandie Shaw (topmost image, right) was renowned for performing barefoot and had a string of hits including "(Always) Something There To Remind Me", "Girl Don't Come", "Long Live Love" and "Puppet On A String" with which she won the European Song Contest despite allegedly not liking the song!
Helen Shapiro (bottom image) was only 14 when she had her first hit single, "Don't Treat Me Like A Child" which was followed by the No. 1 hits "Walking Back To Happiness" and "You Don't Know".
She topped the bill when The Beatles made their first nationwide tour. Lennon and McCartney then wrote the song "Misery" for her but her record company refused to allow her to record it.
Cilla Black was the biggest selling act from Liverpool in the1960's after The Beatles. She had eleven Top Ten hits including "Anyone Who Had A Heart" and "You're My World".
Top and emerging local musicians are being sought to give their own unique interpretation of their favourite girl artists' songs as well as performing some new songs of their own. Advance tickets for the event called "Girls On Top" are now on sale and cost just £2.50 from the Kitchen Garden Cafe on York Road or £2.75 from www.wegottickets.com/event/224507
Any remaining tickets will cost £3 on the door.

Organisers Bob Prew and Ken Whittaker said, "We already have some great musicians lined up to play but would like to hear from a few more. We were delighted that over 100 fans turned up at our first Lazy Sunday Afternoon music session celebrating 1960's pop icons The Kinks and hope for an even better turn out on 4 Aug to celebrate the major contribution girl singers made to the music of the era. We are determined to keep the spirit of the Ritz Ballroom alive".
Musicians interested in playing at the event should contact This e-mail address is being protected from spambots. You need JavaScript enabled to view it "
Get Kinda Kinky in King's Heath!
Come and get Kinky in King's Heath on Sunday 7 July and celebrate a legendary performance by The Kinks at the former Ritz Ballroom in York Road that was gutted by fire earlier this year.
Brothers Ray and Dave Davies brought The Kinks to the Ritz in June 1966 and making his debut was John Dalton after regular bass guitarist Pete Quaife broke his leg in a car accident. Appearing only two days after being recruited, John had virtually no time to practice. Three years later he would re-join as a permanent member.

The Kinks' appearance at The Ritz came just after they had released "Sunny Afternoon" as a single which became their third No. 1 hit in the UK charts. The group went on to have a total of seventeen Top Twenty singles including "Dedicated Follower of Fashion", "Waterloo Sunset" and "Lola" and five Top Ten albums starting with "Kinda KInks" .
Fletchers Bar on York Road directly opposite the former ballroom on York Road, King's Heath will host the "All Things Kinky" event from 4 p.m. to 7 p.m. Top and emerging local musicians including Ben Calvert, Mr Apollo, Robert Lane, James Connolly and Harriet Harkcom will perform their favourite Kinks' songs. Advance tickets are now on sale and cost just £2.50 from the Kitchen Garden Cafe on York Road, or £2.50 plus 50p booking fee from www.wegottickets.com Tickets will cost £3 on the door.
Local residents Bob Prew and Ken Whittaker who are organising the event said, "We are hoping for a really Sunny Afternoon. We want as many Kinks fans as possible to come to King's Heath on 7 July to celebrate our amazing musical heritage. The Kinks are widely recognised as one of the most important British groups of all time and they continue to have a major influence on today's music scene. This session has been specially designed for everyone who likes to be Kinky "All Day And All Of The Night" and there will be a special prize for the Best dressed 1960's "Dedicated Follower Of Fashion" who turns up!"
Rock 'n' Roll Revival on Sunday 6 October will end Summer Series of Lazy Sunday Afternoon Sessions
"Great Balls of Fire" will be one of the many classic songs sung at a special event to commemorate all the famous rock 'n' roll artists of the 1950's and 60's who played at the former Ritz Ballroom gutted by fire earlier this year.
On Sunday 6 October top local groups including SwiftBeat rock 'n' roll band, The 6-5 Specials, Mr Apollo and World of Fox will perform their favourite rock 'n'roll songs in a 3 hour session starting at 3 p.m. at Fletchers Bar on York Road directly opposite the former ballroom.
Tickets cost just £2.50 in advance from the Kitchen Garden Cafe also on York Road or www.wegottickets.com or £3 on the door.
"Great Balls of Fire" was a number one hit for Jerry Lee Lewis. When he first performed at The Ritz Ballroom his chauffeur had to be shown the way to King's Heath from another Regan owned venue - The Plaza in Handsworth - by a fan travelling on his mate's motor bike.
When Gene Vincent played the Ritz Ballroom on 21 June 1963 he was supported by a band called The Outlaws" featuring Ritchie Blackmore later of Deep Purple and Rainbow fame.
Internationally famous Bill Haley is also known to have played at the Ritz Ballroom as well as up and coming British rock 'n' roll acts including the very young Joe Brown and Cliff Richard!
This event will be the last in the Walk of Fame's very popular summer series of Lazy Sunday Afternoon Sessions that kicked off on 7 July with "All Things Kinky" celebrating the music of The Kinks.
Local residents Bob Prew and Ken Whittaker said "We have been really delighted that so many people have come along to all the sessions to continue to celebrate King's Heath's amazing musical heritage. The name for the sessions was taken from a hit single by The Small Faces who also performed at the Ritz Ballroom. We will be having a short break in November before returning on 1st December with a Best of 2013 show".
Summer of 1960's Music Nostalgia planned despite Ritz Ballroom fire!
Defiant organisers of the Walk of Fame said that the fire that recently destroyed the former Ritz Ballroom will not halt their plans to celebrate King's Heath's amazing musical heritage this summer.
A whole series of events are planned throughout the summer including:-
♦ inducting The Move founder Trevor Burton as the next star on the Walk of Fame on 3rd June at the Hare & Hounds. Trevor will be presented with his star at an Award Ceremony at 4 p.m. that everyone can attend for free. This will then be followed by a concert at 7.30 p.m with the current line-up of The Move featuring Bev Bevan and Trevor Burton and The Trevor Burton Band. The Move regularly played at The Ritz when they first started up and the last few remaining tickets for the gig are now on sale price £7 from www.hareandhoundskingsheath.co.uk
♦ monthly Lazy Sunday Afternoon sessions at Fletchers Bar directly opposite the former Ritz Ballroom themed around artists who played at The Ritz:
June 9 - Rock 'n' Roll Revival commemorating the 50th Anniversary of Gene Vincent playing The Ritz. Jerry lee Lewis and Bill Haley are also known to have performed there.
July 7 - All things Kinky commemorating The Kinks performance at The Ritz
Aug 4 - Girls Afternoon Out commemorating, Dusty Springfield, Sandie Shaw, Helen Shapiro and Cilla Black who all played at the Ritz.
♦ an all day Rolling Stones Fest on Saturday 14 Sept at Fletchers Bar and other venues around King's Heath to commemorate the 50th Anniversary of the Stones gig at the Ritz with films as well as live and recorded music.
The first ever Birmingham Civic Society Music Heritage plate (photo opposite courtesy of Ell R Brown) commemorating the Ritz Ballroom has survived the fire and these summer events are intended to keep the music and memories of the 1960's alive while the future of the building is decided.

Organisers Bob Prew and Ken Whittaker said, "The Ritz Ballroom building may have been destroyed but we are determined that the memories and music will carry on. It is vital that the key role the Ritz played in Birmingham's musical heritage is not forgotten. All the great bands of the 1960's played at The Ritz. These live events will keep the spirit of The Ritz well and truely alive".
Both Toyah Willcox's pavement star and the Birmingham Civic Society Misic Heritage Plate have been removed for safekeeping while the whole building awaits demolition.
For more images by Ell R Brown like the one featured opposite, please visit the Flikr page here
"Fire at Kings Heath venue where The Beatles once played"
Sad news today as people in King's Heath awoke to the blaze that consumed the former Ritz Ballroom (now a Cash Converters store) where The Beatles played (see our article here). Fire crews, along with other emergency services, were in attendance leading to local road closures and transport mayhem around one of Birmingham's busiest hubs. The Birmingham Mail today published a version of events that reads:
"One of the main commuting routes into the city is currently closed while up to 40 firefighters tackle a "suspicious" blaze at a building that once played host to The Beatles. Police have closed Kings Heath High Street in both directions from York Road and Silver Street after fire broke out at the Cash Converters store, formely The Ritz venue. Commuters are being warned to avoid the area and traffic is being diverted down Institute Road. Officers say Kings Heath High Street is to remain closed for the rest of today. There are no reports of injuries. Police have said that the cordon will stay in place during the morning rush hour and the cause of the fire is being investigated. A police spokesman said: "Officers are treating the blaze at Cash Converters on York Road as suspicious. Emergency services were called when the fire started just after 5am today (27 March)."
For more on this story, please read the full Birmingham Mail article here.
Meanwhile West Midlands Fire Service issued a statement on their website which reads: "At 5.02am today (Wednesday 27 March) we received a 999 call reporting smoke coming from the Cash Converters premises in York Road, Kings Heath, Birmingham. When they arrived, crews found a se
vere fire in the two-storey building and our resources were quickly scaled up to eight fire engines and around 40 firefighters, plus a hydraulic platform."
They also released an image of the collapsed building (right - © West Midlands Fire Service) showing the devastation caused by the fire as it progressed through the building.
For more, please visit the West Midlands Fire Service website here. More images can be found here along with the image below - © West Midlands Fire Service.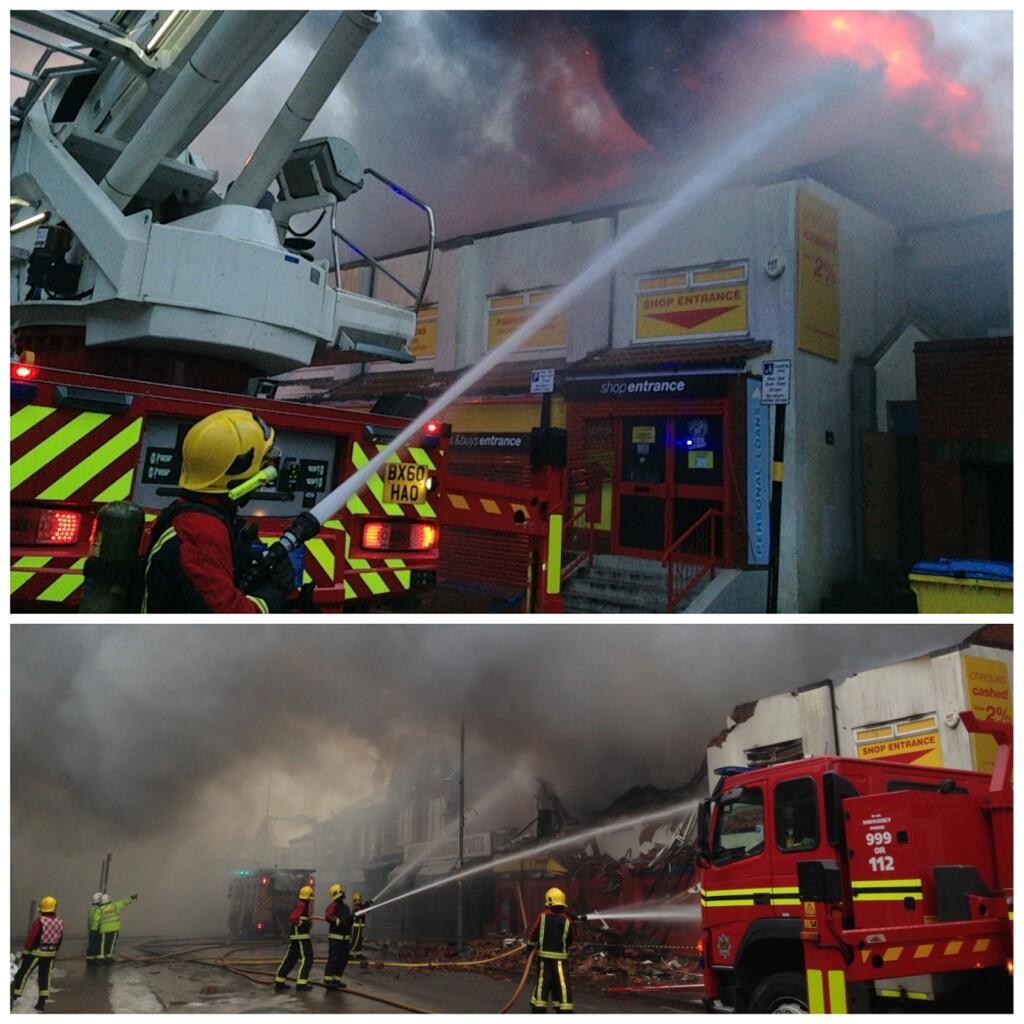 Here's a comment from "Hoakser" on Twitter:
« StartPrev12345

6

7NextEnd »
Page 6 of 7